Pefkos (Pefki) er en hyggelig ferieby på østkysten af Rhodos, ca. 4-5 kilometer sydvest for Lindos. Tidligere blev Pefkos kaldt en lille ferieby, men lidt efter lidt har den vokset sig større.
Den græske charme har den dog stadig, og derfor har byens små hoteller og ferielejligheder mange tilbagevendende gæster. De senere år er nogle enkelte store hoteller kommet til, for eksempel Island Blue Hotel, der har to swimmingpools, børnepool, børneklub m.m.
Bylivet udspiller sig dels ved den dejlige strand, og dels 500 meter inde i landet hvor de fleste butikker m.m. ligger. Det gælder også byens mini-supermarkeder og apoteket.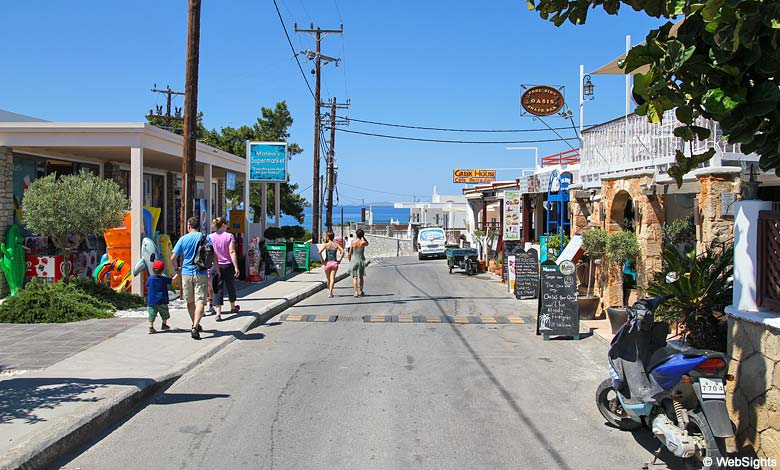 Stranden i Pefkos
Pefkos har flere charmerende strande, herunder hovedstranden der ligger foran byen. Stranden er næsten 500 meter lang og hovedsageligt dækket af sand. Vandet er lavt og normalt meget stille, så alt i alt en børnevenlig strand. Bag stranden er der et godt udvalg af spisesteder.
Der ligger flere små hyggelige strande i byens vestlige udkant. Her er der endnu mere fredfyldt, især ved strandene uden så mange faciliteter.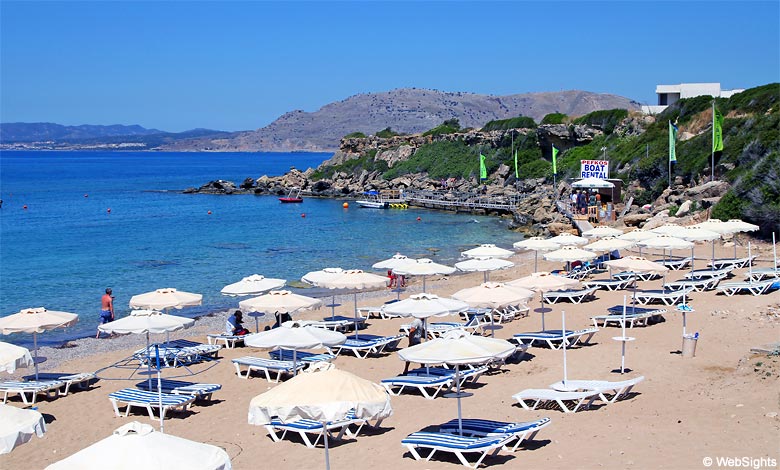 Restauranter og natteliv
Pefkos har et rigt udbud af restauranter og caféer, mere end rigeligt til et to ugers ferieophold. Den måske bedste restaurant er Terpsis, der serverer græsk mad og middelhavsmad. Restauranten har et dejligt udendørs område.
Nede ved stranden er der også flere muligheder for en god frokost. Skal det være relativt billigt, men godt til prisen, så prøv Lee Beach Café.
Nattelivet indskrænker sig til nogle lange sommeraftener med farverige drinks, enten nede ved stranden eller oppe i byen. Diskoteker og natklubber finder man ikke i Pefkos.
Aktiviteter og seværdigheder
Den mest oplagte udflugtsmulighed er naturligvis Lindos, som kun ligger nogle kilometer fra Pefkos. Her kan man besøge den maleriske historiske bydel samt resterne af Akropolis, der delvist er mere end 2.000 år gammelt.
De som vil kombinere en naturoplevelse med en badetur kan enten køre mod Prasonisi på sydspidsen af øen eller et stykke nordpå til Rhodos flotteste strand, Tsambika.
Pefkos kort
På kortet ses hovedstranden nederst i billedet, mens de mindre strande ligger mod nordvest. Lindos ligger nogle kilometer mod nordøst.