Faliraki er en af de mest populære feriebyer på Rhodos. Byen ligger på østkysten, ca. 14 km. syd for Rhodos by og kun 10 km. fra lufthavnen.
Feriebyen er mest kendt for det gode vejr, den flotte lange sandstrand og sit heftige natteliv. Det går ikke så vildt for sig som tidligere, men byen er fortsat party by nummer et på Rhodos. Det mærkes der dog ikke meget til og slet ikke i nærheden af de store familiehoteller i udkanten af byen.
Se Sunwebs mange hoteller i Faliraki.
Strandene i Faliraki
Faliraki byder på én af de flotteste strande på Rhodos. Den omtrent fem kilometer lange sandstrand har overvejende finkornet sand og ligger godt beskyttet mod vestenvinden.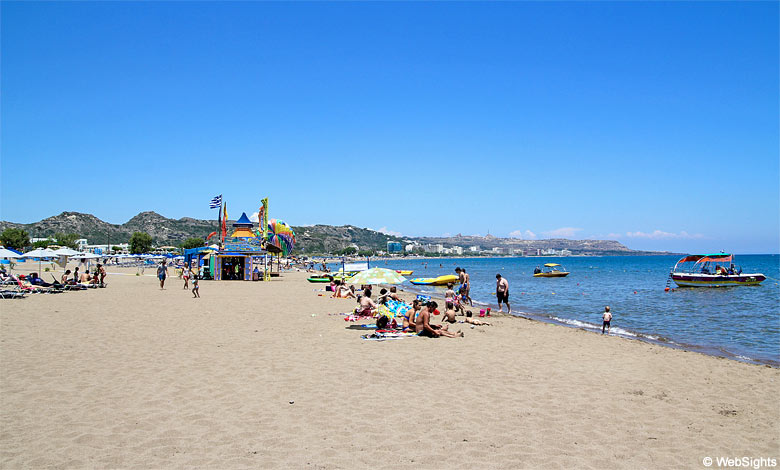 Langs stranden er der et godt udbud af restauranter, strandbarer, solsenge og ikke mindst masser af vandsport. Her kan du stå på vandski, leje jet ski, få en hæsblæsende tur på bananbåden og meget mere.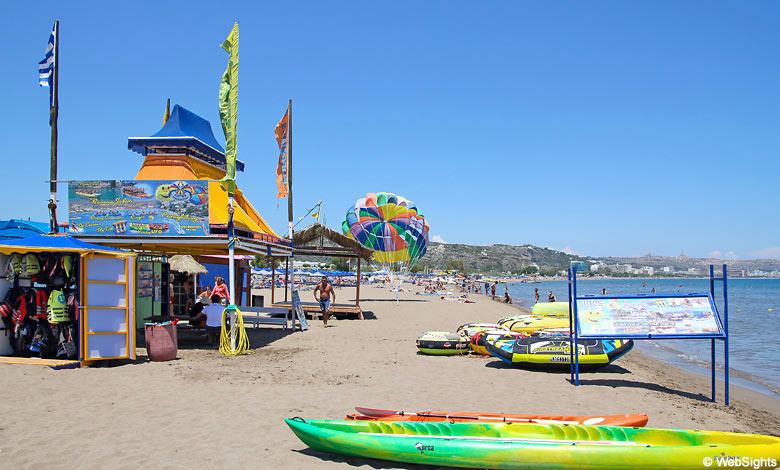 Restauranter og natteliv 
Udbuddet af restauranter, caféer og taverner er enormt i Faliraki. De fleste ligger i centrum af byen, og serverer international mad. I udkanten af byen ligger restauranten The Monastery, og den er kendt for god traditionel græsk mad.
Når natten falder på, så kommer der for alvor gang i Faliraki. Nattelivet er ret centreret omkring to gader, en med barer på rad og række og en med en masse diskoteker.
Til de mest populære barer hører Ziggys, Jamaica Bar og Chaplin's Bar. Her er der ofte happy hour, altså to drinks for prisen af en. Det måske mest populære dansested er Q-Club, der spiller forskellig musik på hver af sine tre etager. Stedet BED er kendt for at have internationalt kendte DJ's på programmet ind i mellem.
Aktiviteter og seværdigheder
Der er masser af andre aktiviteter i Faliraki, hvis strandlivet begynder at blive kedeligt. Et af de største vandlande i Europa, Faliraki Water Park, ligger nemlig i byen. Her kan hele familien for mange timer til at gå, måske endda flere dage.
For de lidt større er der en gokart-bane, mens alle kan hygge sig i bowlinghallen og for børnene er der også flere legepladser samt den lille forlystelsespark, Luna Park. Så Faliraki er bestemt et godt valg for børnefamilier.
I byen Kalithea, der ligger lidt nord for Faliraki, ligger der en dykkerskole.
Faliraki kort
Omkring midt i billedet ligger Faliraki centrum, mens de store og nyere hoteller ligger i den øvre del af billedet og endnu længere mod nord.