De fleste forbinder Akropolis med Athen, men den græske hovedstad er ikke ene om at have et Akropolis. Det var meget almindeligt i datidens Grækenland, og det græske ord "akropolis" kan oversættes til noget i retning af højeste by.
Et akropolis tjente to formål, dels som uindtagelig fæstning og dels som et religiøst sted. Det gælder også for det Akropolis, der ligger højt hævet over byen Lindos på Rhodos. Lindos er i sig selv en interessant by, og den eneste af de tre oprindelige antikke byer på Rhodos, som stadig eksisterer.
Adgangen til Lindos sker gennem den gamle byport, og herfra spadserer man rundt i de smalle, snoede stræder med hvidkalkede huse. De fleste huse har mørke trædøre med fine udskæringer, og ved de såkaldte kaptajnshuse danner tusindvis af små farvede sten flotte billeder og inskriptioner.
Fra byen kan man se op til Akropolis, der ligger på den 111 meter høje klippe Monte Smith. Klippen er navngivet efter den engelske admiral William Sidney Smith, der var udstationeret på øen i 1802. Turen derop tager ca. en halv times tid til fods, og vi anbefaler at tage turen tidligt på dagen, inden det bliver rigtigt varmt.
Turen kan være anstrengende, men belønningen er stor. Lindos Akropolis er imponerende, især i betragtning af, at det store tempel med dets høje doriske søjler blev bygget i det 4. århundrede f.Kr. Templet blev bygget til ære for gudinden Athene, der var visdommens gudinde i græsk mytologi, og datter af Zeus.
Sidenhen blev Lindos Akropolis udbygget af antikkens grækere, romere og byzantinere. I 1300-tallet omdannede ridderne fra Malteserordenen Akropolis til en regulær fæstning, og den blev yderligere udbygget af Osmannerne, da de i 1522 fordrev Malteserordenen fra Rhodos. Sidenhen blev den militære betydning mindre og mindre, og i 1844 var det helt slut.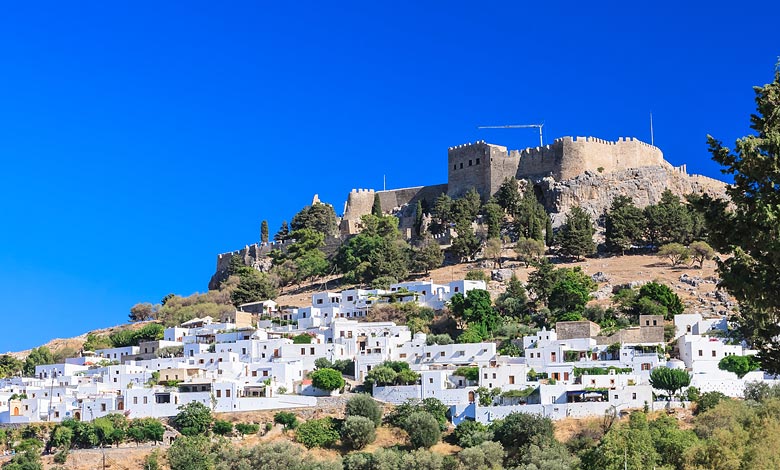 En bonus ved at besøge Lindos Akropolis er den fantastiske udsigt. På dage med klart vejr er det muligt at se helt til den græske ø Simi (staves også Symi) og bjergene på det tyrkiske fastland. Lige umiddelbart mod syd ligger den billedskønne St. Pauls bugt med sine to dejlige strande.
Strande har Lindos også, og efter en varm tur op til Lindos Akropolis er det forfriskende at springe i Middelhavet og efterfølgende nyde noget koldt at drikke på en af strandcaféerne.
Lindos Akropolis kort
Til højre for kortets midte ligger Akropolis, mens Lindos historiske bydel ligger til venstre. Begge dele anses for at være to af de største turistattraktioner på Rhodos. Zoomes der ud to gange ses stranden i Lindos mod nord, og strandene i St. Pauls bugt mod syd.